You're always writing it to be something. Later, you decide whether it'll ever see the light of day. But at the moment of its writing it's always meant to be something. So, to me there's no practicing; there's only editing and publishing or not publishing.—Steve Martin
Writing can be a solitary experience and certainly when I close the door to ponder or write or tweak, it is solitary. Even when I walk around with a post or some other writing in my head, it's as if I'm in two worlds: the one with the work in progress and the one with other people.
I like solitude. One of my favorite things about copyediting is that it can be downright meditative.
But I also like people and the way research, writing, and editing can bring people together. Research in its many forms often involves other people. And sometimes editing does, too.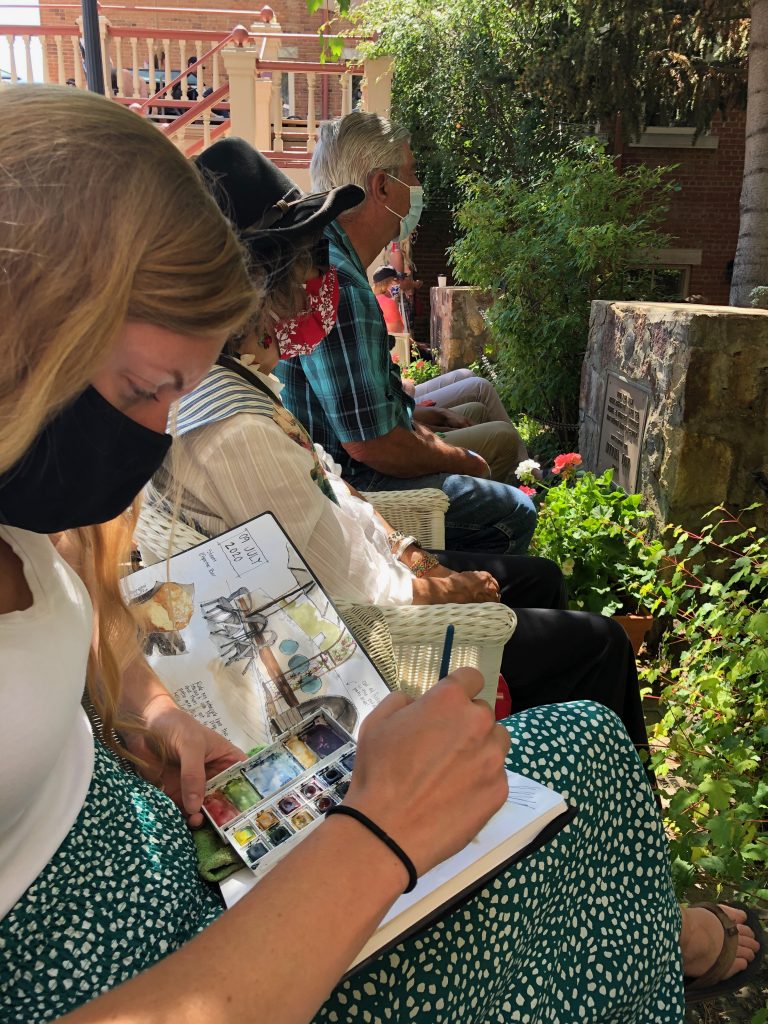 Editing
I have different expectations for the levels of correctness for different forms of communication. I completely understand an abundance of errors in texts. They may be keyed in on tiny keyboards where normal-sized fingers can easily press multiple keys at a time. I'm also tolerant of errors in emails where both thinking and typing often go quickly. But for printed materials and digital communications that will be around as long as a blog post that could be read by friends and strangers, I expect higher standards of readability and correctness.
The primary and most obvious reason I ask others to edit my posts is that good editing always leads to better writing, both in terms of improving a post and enlightening the original author. Other reasons include the following:
Editors are good company. As noted previously, asking friends to edit my posts is a good way to stay in touch with them.
Many voices are better than just one. When I worked for FEMA I often visited radio stations to record quick spots about how listeners could apply for assistance after a disaster. The experience taught me the value of having many voices on radio programs. The same applies to websites.
It's collaborative. It's a way to make my website a more collaborative space, where various ideas can bounce around and new ones can take form.
Editors are good for my reputation. The blurbs I include about my editors serve as an implicit endorsement of my work and me.
Ideally, editing takes place before publishing. But, thanks to the wonders of digital communication, the two can go in reverse order. Sometimes I may continue writing up to my self-imposed deadline or ask a busy person to edit for me. In situations like these, I post on my blog on time and revise it according to the edits after I receive them.
Publishing
For me, publishing has also been a collaborative process. I've worked since the start with my user experience designer to create the site, reconstruct it after it was hacked, and more recently to add the capability to subscribe to my blog.
My website is built on the WordPress platform, which makes the act of posting, which I usually do about once a month, relatively easy.
I draft my posts and make editors' revisions in Microsoft Word. After logging into the administrative side of my website, I copy and paste the document into WordPress and post it. I take additional steps to insert photos and get my most recent post to show up on my landing page. As with many web-based tasks, I think of the whole process as being a bit like the hokey-pokey or a secret handshake.
For those who wish to publish a blog without a website, there are free and paid services for that. I know little about these, but one that looks interesting is Blog Starter (https://www.theblogstarter.com), which coordinates hosting, domain name acquisition and the platform, which is WordPress. It also appears to provide ample hand holding and good customer service.
Questions that may be worth considering include:
How much does it cost?
Will there be ads nearby and, if so, what products will be featured?
Will it be easy for web users to find and open the blog?
Sharing posts is one way publishing can be a social activity. For example, I shared my post about online instruction (http://www.buffygilfoil.com/taking-teaching-from-onsite-to-online/) with all of my sources and that led to a series of Zoom calls with my friend Mariam Nouri, who is extremely fluid in using Zoom and other online resources for teaching. We've also talked about her website and blog, https://www.noonology.com/blog.
The post about online instruction also led to a long phone call from my friend Winnie, whose son's work appeared in the post. Winnie called to connect me with a teacher who does Zoom bingo. The post may have even helped me get steady work in the education field.
Another post, "A Session With Dead Architects" (http://www.buffygilfoil.com/a-session-with-dead-architects/) was about a cemetery tour I took with the Institute of Classical Architecture and Art. The post won a prize from the National Federation of Press Women and I've mentioned it when I've gone sketching with ICAA members. Since I'm a rookie sketcher, it's nice to be able to show proficiency in another area, as well as a shared interest with other group members. In addition, one of the sketchers talk me about Liz Steel's website (https://www.lizsteel.com), which has been an inspiration to me.
I could write more and I may need to add or subtract to make my presentation the right length, but for now I'm going to turn my attention to the Zoom presentation for Senior Planet. Developing Zoom skills is something that will also be useful in my life in classrooms.
Meanwhile, as Mr. Spock would say, "Live long and prosper."
My guest editor for this three-part series of posts was Vicky Tangi, who teaches English as a Second Language to adults and whose writing has been appeared in Louisiana Literature, the Journal of College Writing, The Advocate and numerous literary anthologies.
If you'd like to hire me to help you with a blog or other writing project, please let me know.